Skills for EAP Success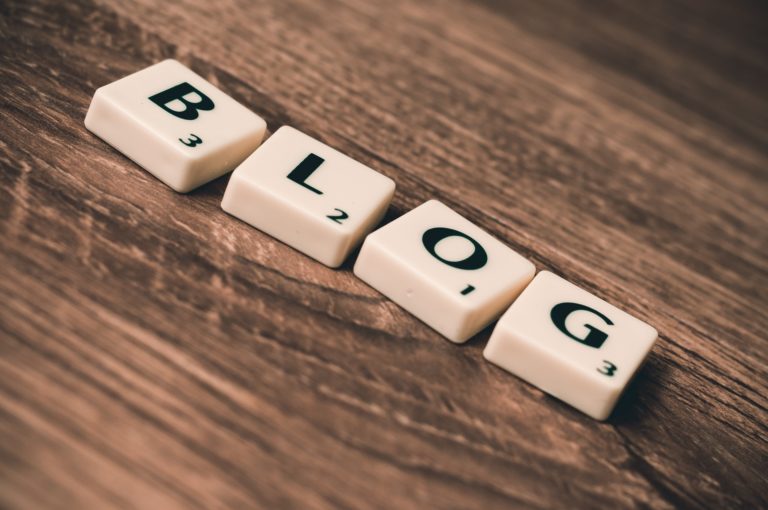 There's so much happening at Academic Marker that it might be difficult for students and tutors to keep up. To help you stay informed about updates to our course library, resources and services, we'll be updating our posts and blogs on a weekly basis. Visit our news and updates section to learn more about how we're increasing our involvement with the academic-English community.

Welcome back to our bi-weekly update! In this week's edition, we're taking the time to pause here at Academic Marker and think about an important question: What does it take to ensure academic success?
Academic success can be achieved in a variety of ways, and many tutors understand that what it takes to be successful at university is more than just an aptitude for a specific subject or for English. Many students are successful because they've worked hard to hone their academic skills. To help you do the same, this week we're giving our readers a brief overview of the what, which, why and how of English for Academic Purposes (EAP) skills. While some of these skills are particularly helpful for those studying EAP, in reality they will probably help any student who is relatively new to a British or America higher education system.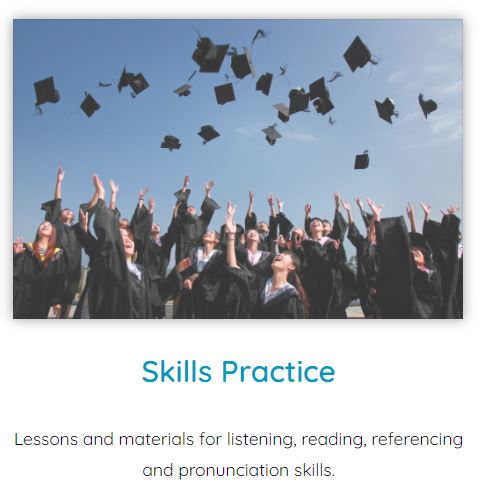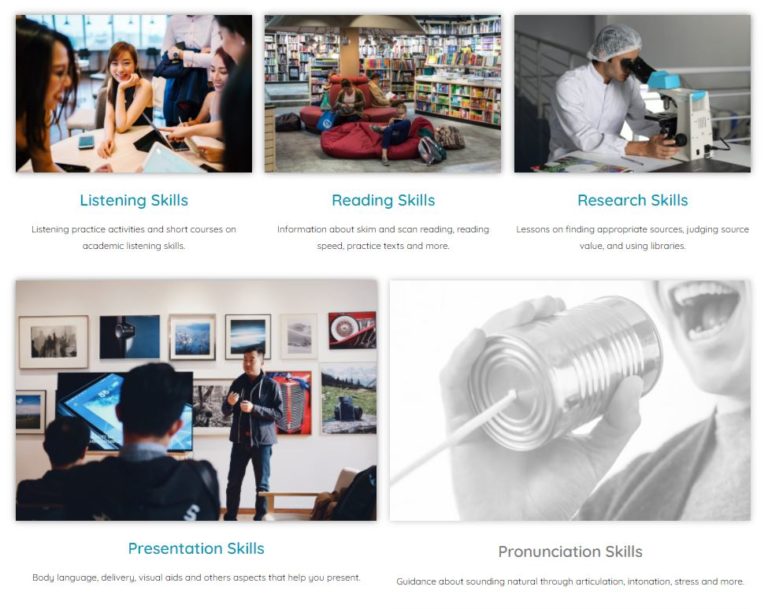 What are academic skills?
What comes to mind when you think of academic skills? Perhaps the ability to write convincing essays, give captivating presentations or be able to pick up any book and understand it with a quickness? All these things will of course increase the likelihood of academic success, but many students find that the style and level required at the university level takes time and practise to master (a master's degree must get its name from somewhere, right?!). Therefore, to assist with success, we've been developing a number of free skills-based courses and materials and have categorised them in the following way:
Which skills should I start with?
Which skills practice you should start with will really depend on you own strengths and weaknesses. If you struggle to keep up with conversations in lectures and seminars (a very common area for many EAP students) then an obvious place to start is with listening skills such as listening for lecture cues or just general listening practice.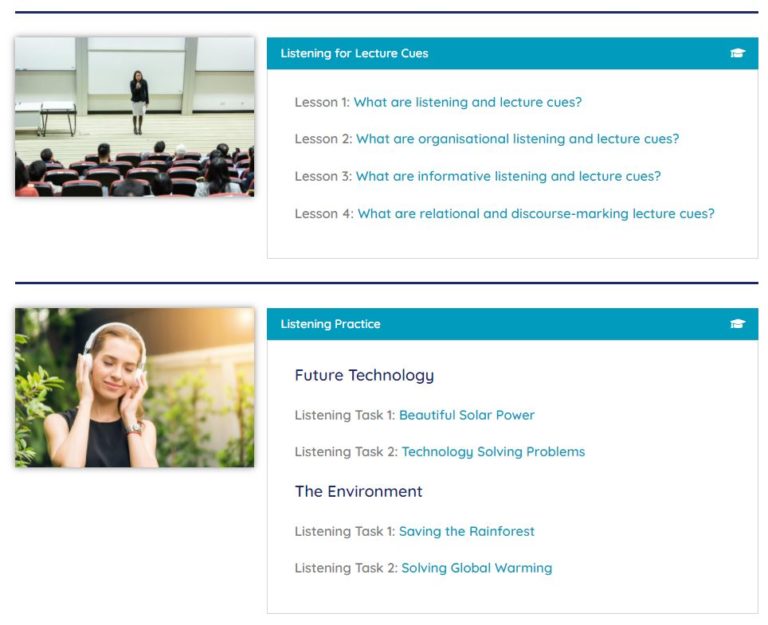 However, if you're new to university, it won't be long before your tutors are setting assignments and examinations to complete, and these will almost certainly require an understanding of academic reading skills (such as improving reading speed) and research skills. If you don't know what a source is or how to reference one, for example, and you've never heard of a journal article, then you may still have a lot to learn before producing a successful academic essay.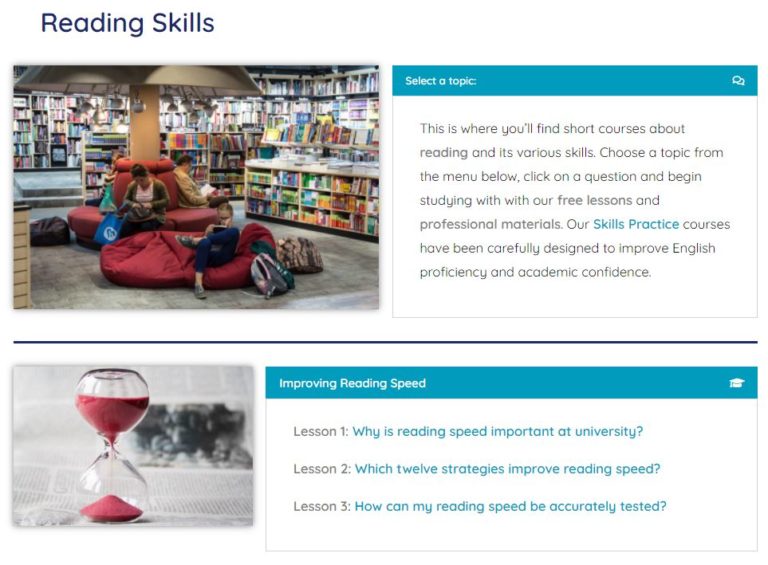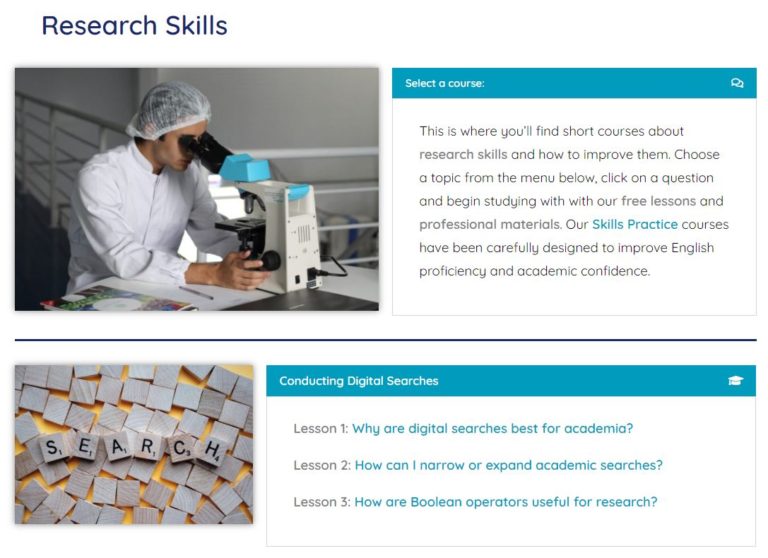 How can I practise my skills?
Firstly, check out our Course Library to see which short courses we have available (we're releasing new courses weekly) and what takes your interest or appeals to your weaknesses. These courses are stuffed with useful tips and guidance, and some will even point you in the direction of extra resources. And don't forget, if you've signed-up and have been collecting your academic marks, then you'll also be able to download and practise your skills (even more!) with our course worksheets. Every activity we've designed is there to improve your skills, vocabulary and overall English proficiency.
What does it take to ensure academic success?
To return to this question, we think that students who know that they need extra support in their studies should first ask: What am I doing to help myself? Courses such as those on Academic Marker are designed to be completed autonomously (or with tutor support), and we believe that these courses will help students to be more comfortable and confident in their learning environment and have more of what it takes to be academically successful. Good luck, and feel free to let us know how you are getting on through our feedback and testimonials sections… we love to hear from you! 
Looking for videos and quizzes?
[Autumn 2021] As reading isn't always the most effective (or only) way to learn, students can now engage with interactive academic materials in our Course Library and Practice Labs. Visit these platforms and access video tutorials, live activities, assignments, discussion topics, practice tasks and more.
Collect Academic Marks
🎁
Free
to join the community
3 Marks for visiting daily

10 Marks for writing feedback

20 Marks for leaving a testimonial

20-100 Marks for referring your friends