What is introductory background information?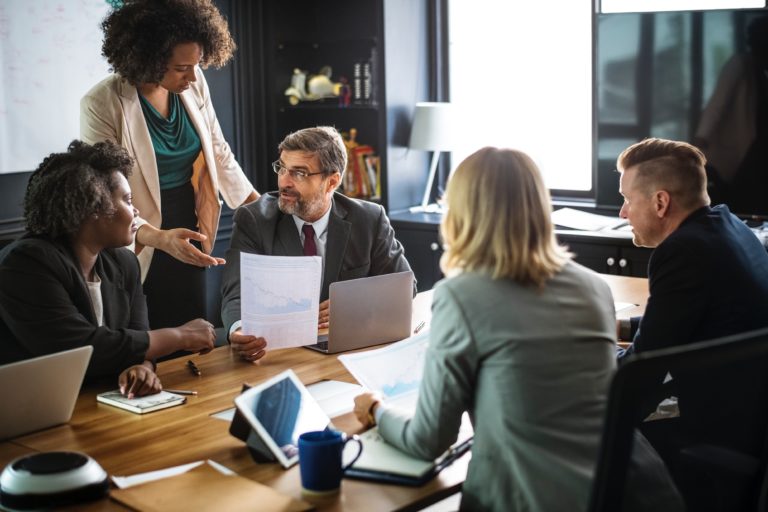 This is the first of three chapters about Background Information. To complete this reader, read each chapter carefully and then unlock and complete our materials to check your understanding.   
– Introduce the concept of background information
– Discuss the purpose and presentation of background information in an academic essay
– Provide an authentic example introduction to provide a model for the reader
Before you begin reading...
This topic now has an interactive unit:
Adding Background
knowledge checks and quizzes

skills practices, tasks and assignments
Although academic tutors (and students) often spend the most time analysing and perfecting the thesis statement, stance and outline of an introductory paragraph, in reality the majority of an essay's introduction is often dedicated to the inclusion of background information. Because such background may comprise up to 80% of an essay introduction, this three-lesson course aims to explore the concepts, purpose and recognisable elements of effective background information. After introducing those concepts and elements below, Chapter 2 then deconstructs these aspects more carefully, providing a variety of examples to guide the reader. Finally, Chapter 3 explores five pieces of advice that students should follow if they wish to create effectively written background information with confidence and ease.
What's the purpose of background information?
Before beginning to plan or construct an academic introduction, a writer should carefully consider the purpose of the introductory paragraph – and more specifically its background information. While the thesis statement may be designed to clearly indicate the essay question, the writer's stance and the general structure of the body section, the purpose of the background information is (1) to introduce the overall topic, (2) to contextualise that topic by providing key information, (3) to explain and define any difficult or subject-specific terminology, and (4) to signify the purpose of the essay and the overall importance of the selected topic. 
How is background information presented?
As will be further explored in Chapter 2, there are a number of optional background elements that may be included at the writer's discretion – such as a hook to interest the reader or a definition of any key terms or abbreviations. While the length and inclusion of many of these elements depends wholly on the essay topic and focus, the general presentational rule for background information is that it moves from a general to specific structure. As is shown in the diagram below, this general to specific ordering is in fact the most common structure for an essay introduction: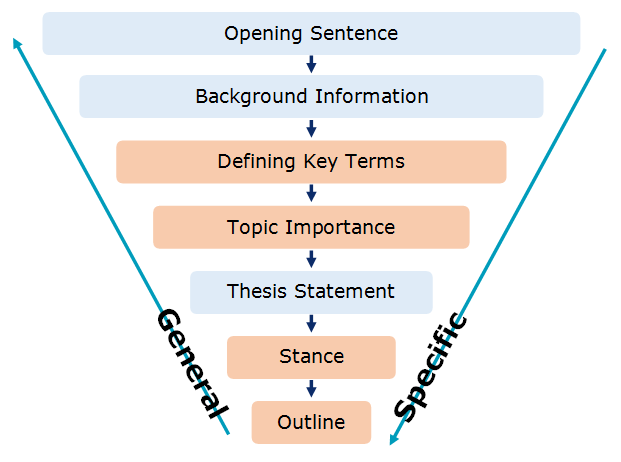 Can I see some examples?
To demonstrate background information more clearly for students, we've created an introductory paragraph below that should be read carefully. The background information in this introduction will be deconstructed closely in Chapters 2 and 3.
Foreign Aid is Effective in the African Continent. Discuss.
The question of whether a richer country should provide financial assistance to a poorer nation is not a contemporary one.1 In fact, recent evidence suggests that cultures as ancient as the Egyptians may have given generous financial assistance to their foreign neighbours on a yearly basis (Smith, 2016).2 Ironically, the majority of countries that now depend upon foreign AID exist firmly within the African continent.3 AID, or Assistance for International Development, is however a relatively recent concept, with $1.7 trillion now spent annually on providing international support for the less affluent countries (Jones, 2018).4 Many researchers have claimed that as much as 65% of this vast sum of money has over the last decade failed to achieve its intended purpose (Lee and Lee, 2016; Smith and Jones, 2019), with projects either being abandoned or falsified altogether.5 With poverty levels increasing year on year both within the donating and receiving countries, the question of the efficacy of foreign AID has been raised in the literature.6 Although significant sums of money have been poorly invested in the African continent, this evaluative essay determines that the effectiveness of foreign AID in Africa is clearly apparent in tertiary educational institutions, in transportation infrastructures, and in the combating of transmissible diseases such as bilharzia and malaria.7
Referencing
To reference this reader:
Academic Marker (2022) Background Information. Available at: https://academicmarker.com/essay-writing/introductory-paragraphs/background-information/ (Accessed: Date Month Year).
Related Sources
1 of 3 Chapters Completed
Once you've completed all three chapters about background information, you might also wish to download our beginner, intermediate and advanced worksheets to test your progress or print for your students. These professional PDF worksheets can be easily accessed for only a few Academic Marks.

Looking to change pathway?
While reading is important, community members might also benefit from a different study pathway, one that offers interactive "microlearning" activities. We have hundreds of videos, quizzes, assignments, discussion topics and more in our Course Library and Practice Labs, ready to explore.
Collect Academic Marks
🎁
Free
to join the community
15 Marks for daily e-learning

20-30 Marks for leaving feedback

50-250 Marks for referring your friends