What are thesis statements and why are they important?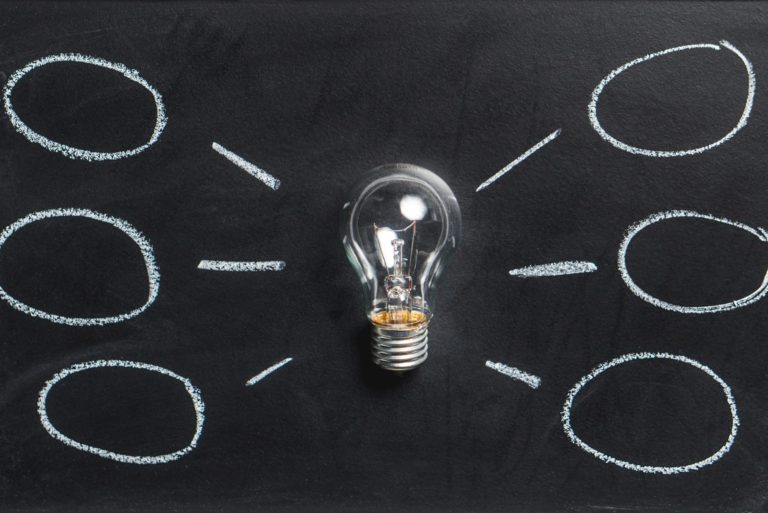 This is the first of three chapters about Thesis Statements. To complete this short reader, read each chapter carefully and then unlock and complete our materials to check your understanding.   
– Introduce the concept of introductory thesis statement
– Outline four reasons to include an effective thesis statement
– Provide examples to help guide and inform the reader
Students are normally introduced to the concept of thesis statements very early on in their academic careers, yet this feature of an introductory paragraph may still cause difficulties for learners even in the final year of their bachelor's degree. However, because an effective thesis statement may be fairly formulaic in nature, this aspect of essay writing should – with the right guidance – be fairly straight-forward to master. The following three chapters deal first with recognising the structure and importance of thesis statements, then with understanding and using the elements of an effective thesis statement, and finally with the concepts and advice that make for strong and well-written theses every time.
What is a thesis statement?
While there may be some variation in answering this question, the general response is that a thesis statement is a one-sentence explanation of an essay's purpose and its key arguments that's usually found at the end of the introductory paragraph. Below are two example thesis statements to help you in recognising them, which we'll be returning to throughout these three chapters for guidance: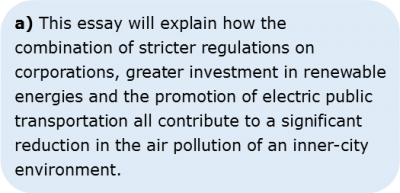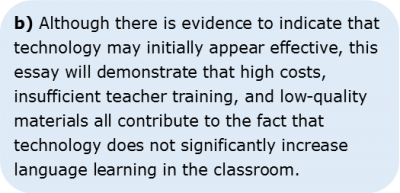 What is the purpose of a thesis statement?
A thesis statement is an integral part of an essay that allows the writer to communicate to the reader the following aspects in a clear and concise way:
1. Introduce the assignment question.
Whether the essay question was assigned by a tutor or was the unique creation of the student, the question being answered should always be clearly delivered in a thesis statement. For example, the following two essay questions can be determined from our previous example thesis statements:


2. Indicate how the question is being interpreted.
By using task language such as 'discuss', 'describe', 'compare and contrast' or 'evaluate', the writer can prepare the reader for type of essay that's been written.
3. Make a claim.
This is particularly necessary for persuasive essays that require stance. A good thesis statement should form a refutable opinion of the topic and try to convince the reader of that opinion through clear arguments and evidence. In our two example thesis statements, we can see the following claims which the reader may or may not agree with (depending on the strength of the writer's argument):


4. Introduce the essay structure.
Normally, an essay will contain a brief outline (or roadmap) of the key arguments, most often in the same order as they appear in the body section. The outline will normally be a concise, clear and specific sentence, and may or may not appear within the same sentence as the thesis statement. In our two example theses, we can see the following structure and arguments for a five-paragraph essay:


One final aspect to be discussed at this point is whether the essay topic has been assigned to you by your tutor or whether you have to create an essay focus yourself. Generally, for bachelor's-level essays, the student will be assigned the essay question by their tutor. However, for master's-level dissertations or PhD-level theses, a student will likely be required to think of the topic for themself, which will become the basis of their thesis statement. While the following two chapters focus more closely on the creation of thesis statements at the bachelor's level with assigned topics, postgraduate students may still find this information useful.
1 of 3 Chapters Completed
Once you've completed all three chapters about thesis statements, you might also wish to download our beginner, intermediate and advanced worksheets to test your progress or print for your students. These professional PDF worksheets can be easily accessed for only a few Academic Marks.

You may also wish to download any relevant PowerPoint activities, teacher resources or audio and video recordings we've created about this topic for only a few Academic Marks.
Looking for videos and quizzes?
[Autumn 2021] As reading isn't always the most effective (or only) way to learn, students can now engage with interactive academic materials in our Course Library and Practice Labs. Visit these platforms and access video tutorials, live activities, assignments, discussion topics, practice tasks and more.
Collect Academic Marks
🎁
Free
to join the community
3 Marks for visiting daily

10 Marks for writing feedback

20 Marks for leaving a testimonial

20-100 Marks for referring your friends