This is the first of eight lessons about Sentence Structures. To complete this course, read each lesson carefully and then unlock and complete our materials to check your understanding.   
– Introduce the concept of sentence structures
– Highlight the importance of sentence structures
– Outline two ways in which sentence structures are useful
Have a question for our community? 🙋
One aspect of English grammar that students often look for assistance with is in recognising, deconstructing and recreating a variety of sentence structures. It's important for a university student to have a good grasp of this topic because knowing a compound sentence from a complex sentence or a sentence fragment from a run-on sentence will allow for much more careful editing and more dynamic writing. When combined, both of these aspects should therefore lead to more coherent writing that receives a higher overall grade.
1. Careful Editing
While some grammatical inconsistencies can be more or less ignored by a reader as they don't impede meaning, this isn't the case for sentence-structure errors. Consider the following example:

Clearly, when sentence structures go wrong as in the above example, such text becomes extremely difficult to understand. What we were trying to say in the previous example was that "a piece of text can be difficult to understand if the sentences which that text contains are not correctly formed or punctuated. If key aspects of a sentence are missing such as that sentence's subject or main verb, or if the sentences are joined without proper use of conjunctions or correct punctuation then the reader will likely become very confused."
Many common sentence-structure errors that greatly impede meaning such as sentence fragments, comma splices and sentence run-ons can all be avoided with a confident knowledge of sentence structures. A student that has this knowledge, therefore, should be able to submit a higher quality of edited writing.
2. Dynamic Writing
Another motivation for learning to recognise and utilise a variety of sentence structures is to make your writing more varied and dynamic. Consider the following two examples: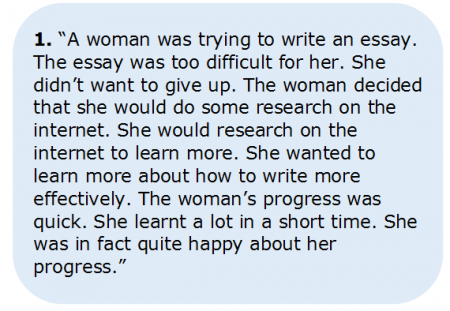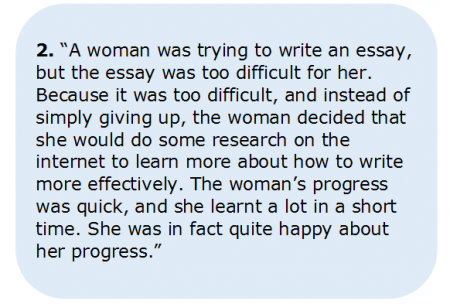 The first example contains nine very short sentences, most of which are simple sentences composed of only one subject and one verb. Example 1 is short and snappy, but feels somewhat disjointed and repetitive. The second example, however, contains only four sentences which have been conjoined in a number of different ways. This text uses a variety of sentence structures correctly, and although the meaning between these two texts is very much the same, the second text is clearly more dynamic and varied – and therefore easier and more pleasurable to read. Your writing can be more dynamic and varied too, provided you understand and are able to use the variety of sentence structures which are on offer.
Once you've completed all eight lessons about sentence structures, you might also wish to download our beginner, intermediate and advanced worksheets to test your progress or print for your students. These professional PDF worksheets can be easily accessed for only a few Academic Marks.
Our sentence structures guidance sheet (including all eight lessons about this topic) can be accessed here at the click of a button.
Gain unlimited access to our sentence structures beginner worksheet, with activities and answer keys designed to check a basic understanding of this topic's lessons.
To check a confident understanding of this topic's lessons, click on the button below to download our sentence structures intermediate worksheet with activities and answer keys.
Our sentence structures advanced worksheet with activities and answer keys has been created to check a sophisticated understanding of this topic's lessons. 
To save yourself 3 Marks, click on the button below to gain unlimited access to all of our sentence structures guidance and worksheets. The All-in-1 Pack includes every lesson on this topic, as well as our beginner, intermediate and advanced worksheets in one handy PDF.
There are currently no PowerPoint activities, additional teacher resources or audio and video recordings created for this topic. Please come back again next semester.
Community feedback is very important to Academic Marker. If there's something you particularly like, an aspect that could be improved or a resource you'd like to share, please don't hesitate to use the form below.