What is the essay planning process?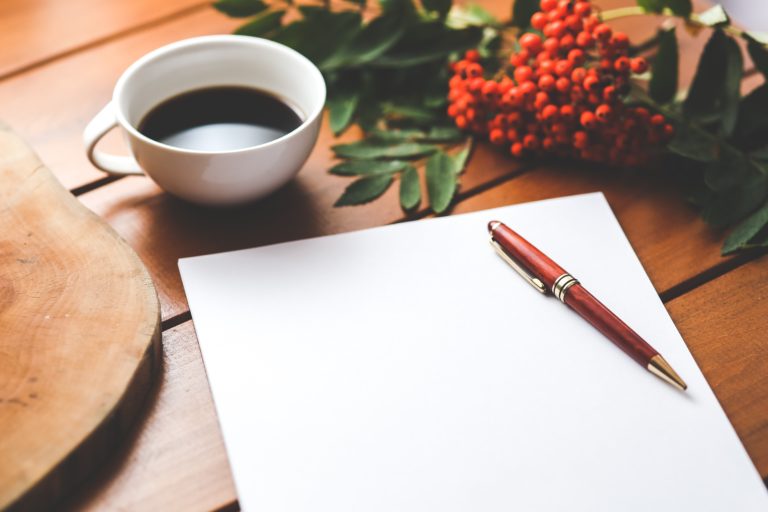 This is the second of four chapters about Essay Writing. To complete this reader, read each chapter carefully and then unlock and complete our materials to check your understanding. 
– Describe an effective essay planning process
– Explain each of the five processes individually
– Provide examples of each process to guide the learner
Now that you understand the different basic sections of an essay, it's useful to also consider the more general processes involved when planning an effective essay. It's very common for students who are new to university and academic English to begin writing their essays before they're really ready to do so, perhaps costing them time in the long run. Although the stages and steps a writer may take to produce an essay will likely differ from individual to individual, there are some generally agreed upon processes that will increase the likelihood of producing an effective essay.
These steps are often referred to as the writing process, which we've split into three stages. These three stages are the planning, writing, and editing and proofreading processes, the first of which is exemplified for you below: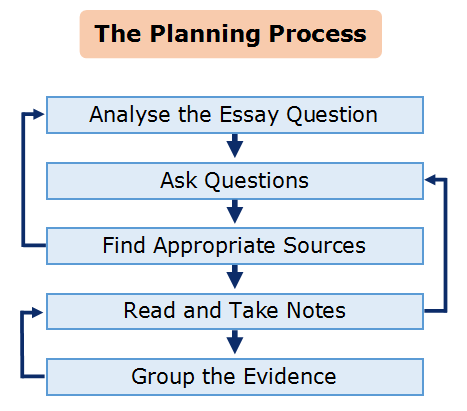 1. Analyse the Essay Question
Before you begin to write, it's important that you understand exactly what the essay question is asking of you, how long your essay should be, and what essay type you're being asked to write.
In the above example essay question, it's possible to distinguish three clear elements: the topic, the task type and the controlling ideas. These have been separated for you in the following table:

It's important to deconstruct the essay question in this way and to question each of its parts before you begin researching. It would be quite unfortunate to waste time in the planning or writing stage because you later realised you'd misunderstood the essay question.
2. Ask Questions
Before you begin reading and researching, you should probably have some questions in mind to better guide your investigations, such as 'What kind of technology?' or 'How expensive might such technology be?'. At this early stage, such questions will likely only be vague or broad, but they will perhaps still help to guide you in assessing the first sources you read for whether or not they are generally relevant or useful. If, for example, you're researching about language teachers in secondary schools and you find information in a source about geography teachers at university, then you should quickly know that this information is not related to the essay question.
3. Find Appropriate Sources
Now that you're ready to begin researching, you'll need to find appropriate sources to use as evidence or examples in your essay. If you've been provided with a reading list, use it. The reference lists provided in the sources on the reading list may point you towards other useful articles. Additionally, you may find sources either through an internet or library search by using key search terms and Boolean operators. And don't forget to return to stages one and two of the planning process to double check the essay question and make sure that you've prepared the right questions to ask of your sources.
4. Read and Take Notes
While you're researching (and you should do a lot of reading for each essay that you write), it's important that you take clear, consistent and accurate notes as you'll need these to confidently write your essay later. One recommendation is to create a word document for each new source that you read and then to include in that document any important details such as the referencing information of that source, any useful quotations and page numbers, and any notes that you've made about the content contained within. You may also need to return to stage two of the planning process so that you can reformulate your questions or ask new ones for any ideas or arguments that your reading has created.
5. Group the Evidence
The final stage in the planning process is to group your evidence and ideas. Once you feel you have read sufficiently and made sufficient notes, a good idea would then be to thematically group the information that you've collected so that it can be better incorporated into an essay plan. Which information might be useful as background to an introduction for example, and which might be useful as supporting details in body paragraphs? Additionally, don't forget to consider how the evidence is connected, which evidence might go in the same paragraph, and which evidence is for or against your topic or concept.
The example below shows how evidence might be thematically grouped, therefore becoming useful for distinct body paragraphs:

Don't forget at this point to return to stage four of the planning process (and perhaps even stage two) if there are gaps in your research that need filling or reconsidering. If, however, you're confident that you've gathered enough information to begin writing your essay, then continue on to Chapter 3.
Once you've completed all four chapters about essay writing, you might also wish to download our beginner, intermediate and advanced worksheets to test your progress or print for your students. These professional PDF worksheets can be easily accessed for only a few Academic Marks.

You may also wish to download any relevant PowerPoint activities, teacher resources or audio and video recordings we've created about this topic for only a few Academic Marks.
Looking for videos and quizzes?
[Autumn 2021] As reading isn't always the most effective (or only) way to learn, students can now engage with interactive academic materials in our Course Library and Practice Labs. Visit these platforms and access video tutorials, live activities, assignments, discussion topics, practice tasks and more.
Collect Academic Marks
🎁
Free
to join the community
3 Marks for visiting daily

10 Marks for writing feedback

20 Marks for leaving a testimonial

20-100 Marks for referring your friends