Which phrasal verbs can be used in academic English?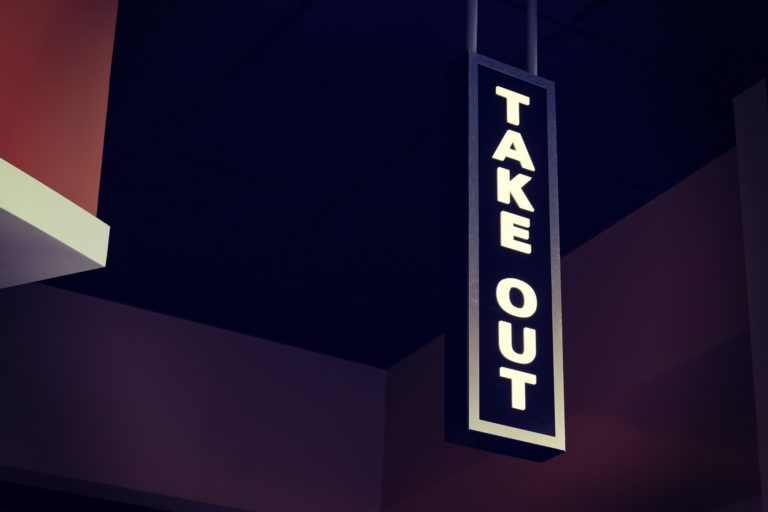 This is the third and final chapter about Phrasal Verbs. To complete this reader, read each chapter carefully and then unlock and complete our materials to check your understanding.   
– Provide the most common phrasal verbs and their types
– Divide phrasal verbs into general and academic categories
– Discuss how to avoid phrasal verbs in academic writing
Looking for quick activities?
We have hundreds of videos, quizzes, assignments, discussion topics and more in our Course Library and Practice Labs, ready to explore. While reading is important, community members can better improve their language and skills with these free activities.
This final chapter on phrasal verbs provides detailed lists of the most common constructions that may be used in both general and academic English.
1. General English Phrasal Verbs
The phrasal verbs which are used in general English tend to be more idiomatic and less formal than their academic counterparts. Very common in speech, particularly between friends or out on the street, the following list provides you with the twenty most-used phrasal verbs, indicating also the variables of transitivity and separability that were discussed in Chapter 2.
Remember when using the following lists that 'I' = intransitive (that the phrase cannot take an object), 'T' = transitive (the phrase takes an object) and S = separable (the object may come between the verb and the particle).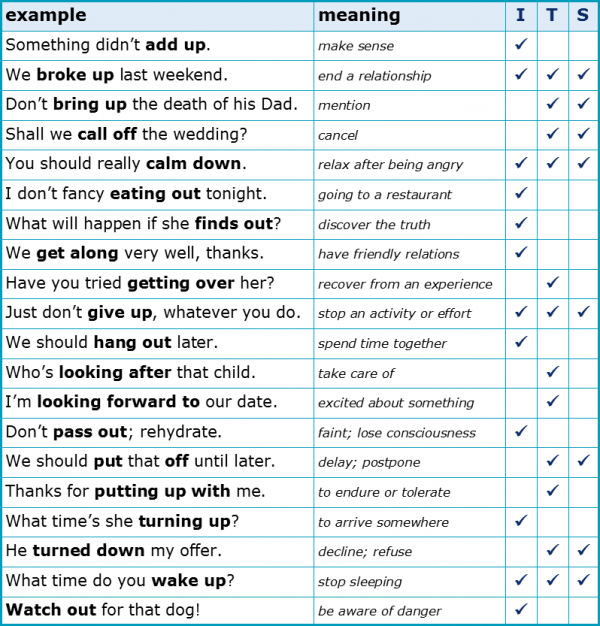 2. Academic English Phrasal Verbs
Many textbooks and tutors of academic English may warn students against using phrasal verbs at all, and while it is true that academics must be very cautious about using such words in their assignments, these constructions should not be avoided altogether. Although not nearly as commonly found in academic texts as in speech, phrasal verbs still reportedly appear in academic writing every 1,250 words. Generally, however, the type of phrasal verbs that are used in this context are more formal ones that lack in idiomaticity.
One reason that phrasal verbs may be less common in academic contexts is because, as we highlighted in Chapters 1 and 2, these constructions can sometimes have unclear meanings – and academic writing is about being as unambiguous as possible. Notice how the ten common academic phrasal verbs we've listed below are almost all transitive and inseparable and have fairly low levels of idiomaticity.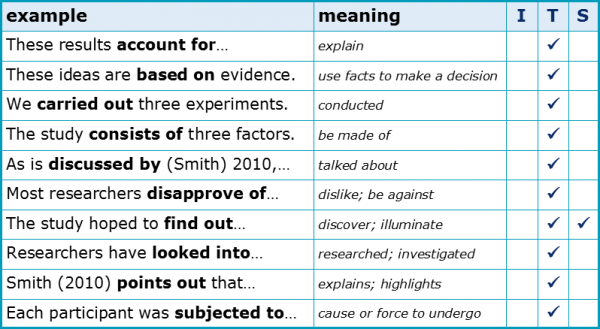 3. Avoiding Phrasal Verbs
Finally, if phrasal verbs are very common in speech and informal English but shouldn't be commonly used in academic writing, then how can students learn to avoid them? The quick answer to this problem is to say that the best method for avoiding phrasal verbs that you've already learned is to instead investigate and use a synonym for these words in your academic performances and writing. The most recommended and academic option is to use a one-word synonym for the particular phrasal verb you've selected (if one exists), such as in the examples below:
3 of 3 Chapters Completed
Once you've completed all three chapters about phrasal verbs, you might also wish to download our beginner, intermediate and advanced worksheets to test your progress or print for your students. These professional PDF worksheets can be easily accessed for only a few Academic Marks.

Collect Academic Marks
🎁
Free
to join the community
5 Marks for visiting daily

15 Marks for writing feedback

30 Marks for leaving a testimonial

50-250 Marks for referring your friends