What makes for an effective personal statement?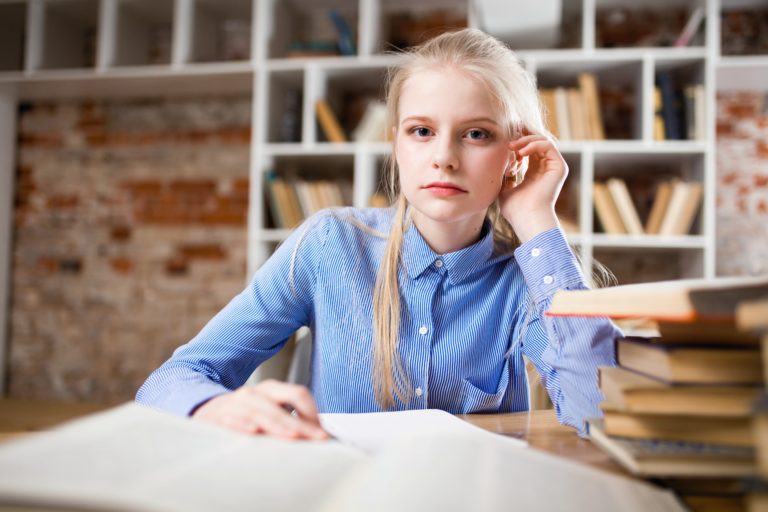 This is the second of three chapters about Writing Personal Statements. To complete this reader, read each chapter carefully and then unlock and complete our materials to check your understanding.   
– Explore five steps for writing effective personal statements
– Compare the differences between academic and professional personal statements
– Provide examples where necessary to guide the reader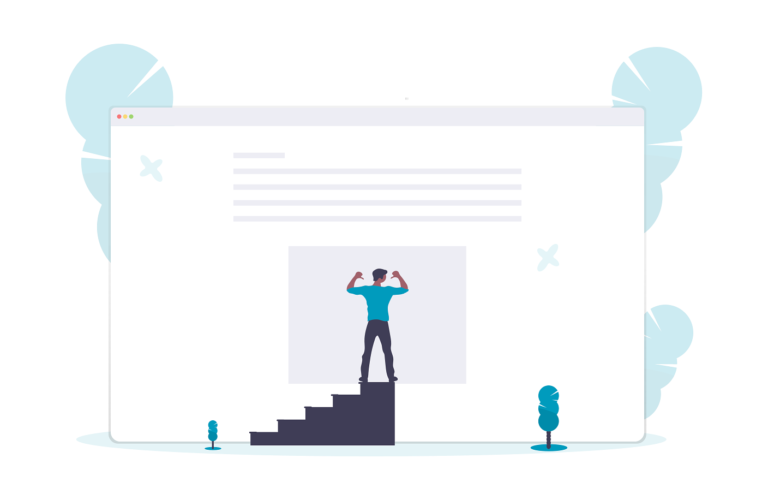 Writing a successful personal statement is one of the most important steps in the application process for both university courses and professional careers. With the world becoming increasingly competitive, every sentence of a personal statement should clearly indicate why an individual is the best applicant for a role – which places a lot of pressure on the writer. While Chapter 1 discussed the more general aspects of a personal statement, Chapter 2 next provides students with a step-by-step guide about writing effective statements, highlighting the differences between writing them for academic purposes or for job applications. 
Step 1: Brainstorm ideas
Much like when writing an assignment, it is recommended that students carefully plan their personal statement by first brainstorming which aspects to include. Before beginning to write, a student should ask themself the following questions:
What are my strengths? What is distinct, unique, or appealing about me?

When did I become interested in this discipline or sector of employment?

What lead me to this point in my education or career path?

How do I plan to continue my academic or professional development?

Are there any gaps or weaknesses in my curriculum vitae that can be clarified or justified?
Step 2: Check requirements
For both academic and professional applications, students should also check the required length of a personal statement and determine whether any discussion guidelines have been provided. It is quite common, for example, for a university or employer to provide a prompt in order to ascertain certain information. While this prompt could be very general in that the applicant should simply detail why they wish to study a particular subject or attend a particular university, some prompts may be more be specific, asking the applicant to reflect on a specific experience that demonstrates problem solving or that shows personal growth.
Step 3: Use a logical structure
Once a student has brainstormed ideas and checked requirements, they should next link their experiences to the desired requirements of the position and form a coherent and cohesive structure. The following tables offer guidance about what to include in each of the three key sections of a successful personal statement.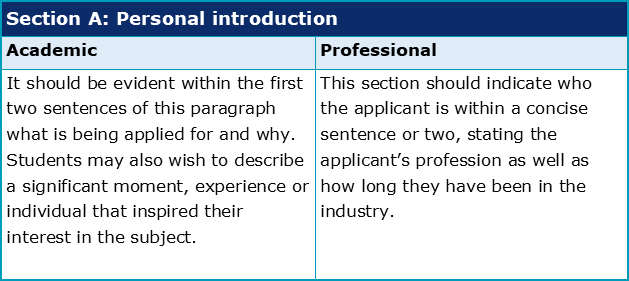 Academic example: "I am applying for a bachelor's degree in English Literature at the Global University. I am applying for this position because I have had a considerable interest in literature since middle school, particularly in the classics such as Shakespeare and Chaucer. These writers have inspired my interests in poetry and creative writing for some time. When I watched an adaption of The Tempest I was so intrigued by the representation of Ariel as a matriarch that I read ten different critiques that night of Shakespeare's original. From that point on, my interests in English literature have exceeded that of all other subjects."
Professional example: "I am applying for the position of Curriculum Team Leader in English for Academic Purposes at the Global University. I have been a teacher since 2007 and have taught EAP at schools and universities around the world."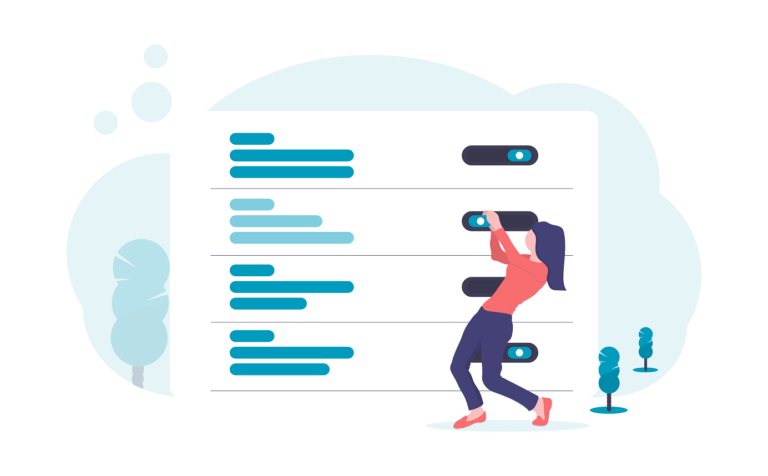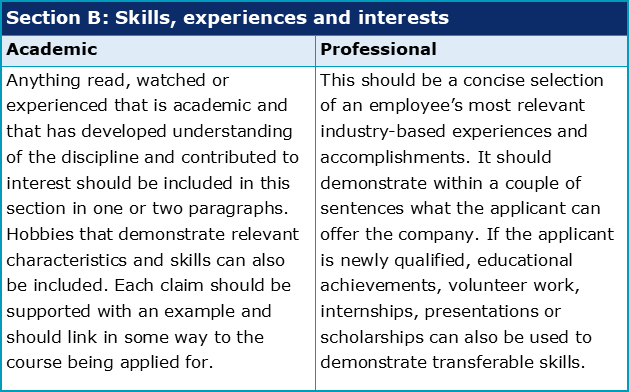 Academic example: "Over the last decade, I have read many of the great classics in British and American literature such as Wuthering Heights and the Great Gatsby, studying such titles both in class and in my own spare time. My hobbies in scriptwriting and novel writing have also led me to become involved in numerous theatre productions at my high school, many of which I was awarded lead parts, such as Tevye in Fidler on the Roof." 
Professional example: "Over the last decade, I have worked in Spain, Japan and Kazakhstan, teaching both general and academic English to learners of all ages. I am particularly skilled in EAP materials design, computer-assisted language learning and the application of online resources, and I would make a valuable addition to your curriculum development team."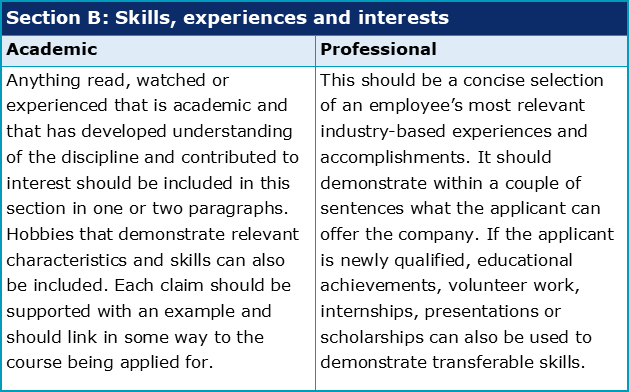 Academic example: "Ultimately, by successfully completing a course in English Literature at your prestigious university, I will have the opportunity to further develop skills in English that will benefit me in a future career as an English-language teacher. Having visited your beautiful city, I can say with absolute confidence that the working environment your institution provides will be one that guarantees my engagement and success." 
Professional example: "In short, I can confidently offer your department the skills and expertise that are needed to succeed in this role. I would be fully committed to the position for the length of the contract and would use the experience I gain to improve my professional development."
Step 4: Edit and proofread
Finally, once a personal statement has been written, it is important that students carefully edit and proofread their document. Although it is not usually necessary to be a professional writer when creating such documents, any obvious spelling, grammatical, or formatting errors will likely lower the success rate of the application. This is because the reader may be left feeling that the applicant does not sufficiently care about their application to check it thoroughly. 
Good work on completing this chapter about writing personal statements. To review this information, first complete the Chapter 2 Worksheet and then read on to Chapter 3 to find out about five common pitfalls that students should avoid.
Once you've completed all three chapters in this short reader about Writing Personal Statements, you might then wish to download our Chapter Worksheets to check your progress or print for your students. These professional PDF worksheets can be easily accessed for only a few Academic Marks.
To save yourself 5 Marks, click on the button below to gain unlimited access to all of our Writing Personal Statements Chapter Worksheets. This All-in-1 Pack includes every chapter, activity and answer key related to this topic in one handy and professional PDF.
Looking to change pathway?
While reading is important, community members might also benefit from a different study pathway, one that offers interactive "microlearning" activities. We have hundreds of videos, quizzes, assignments, discussion topics and more in our Course Library and Practice Labs, ready to explore.
Collect Academic Marks
🎁
Free
to join the community
15 Marks for daily e-learning

20-30 Marks for leaving feedback

50-250 Marks for referring your friends