How can I write an effective introduction outline?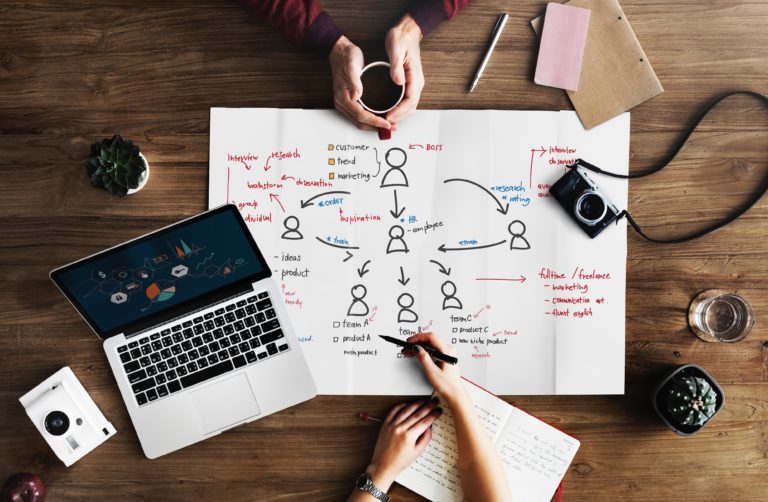 This is the third and final chapter about thesis statement Outlines. To complete this reader, read each chapter carefully and then unlock and complete our materials to check your understanding.   
– Introduce the five tips for effective thesis statements
– Provide authentic examples to help guide the reader
– Remind the reader to check comprehension online
Now that we've discussed what a thesis statement outline is, why one's used in introductory paragraphs, and how this writing feature is intended to improve cohesion by connecting the main ideas of the thesis and the body section, this final chapter on outlines provides five tips for writing successful academic roadmaps with confidence. After reading the following advice, consider unlocking and accessing Academic Marker's beginner-, intermediate-, and advanced-level worksheets on this topic to check your learning and understanding.
1. Clarity
The first piece of advice about writing successful outlines is about maintaining clarity. A poorly edited thesis statement and its outline with potentially incorrect grammar and vocabulary will greatly impact on the transmission of meaning from the writer to the reader, particularly in a second language such as English. Taking a look at our example thesis statement (a) from Chapter 1, we can see that the orange version on the right has a poorly-edited outline that lacks the clarity of meaning: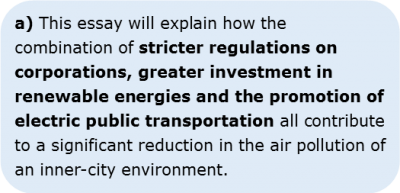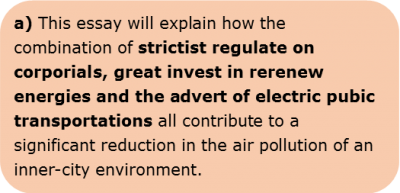 2. Concision
In addition to being clear in your writing, an academic author should also improve concision by deleting any unnecessary words, phrases or details in their outline. Notice how the writing lacks concision in the orange example (b) below through its inclusion of supporting ideas and unnecessary specifics. A successful outline should only include main ideas, keeping the thesis statement brief and to the point.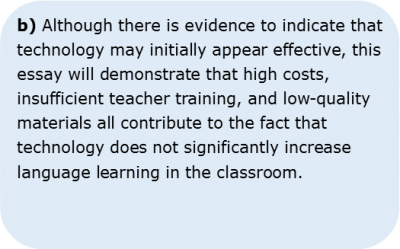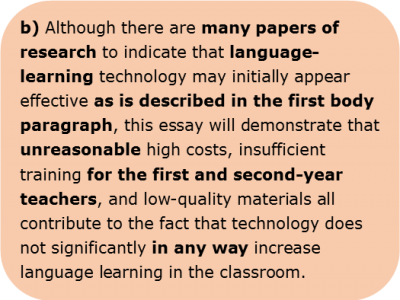 3. Connection
As was discussed in Chapter 2, a strong outline in a thesis statement is usually one that clearly and concisely connects the essay's main ideas across the entire paper to improve cohesion. Provided a student takes one main idea from each body paragraph, includes those ideas in their thesis statement roadmap and provides each idea in a symmetrical order to the body, that student should successfully demonstrate the connection and flow of their argumentation.
4. Originality
Our fourth piece of advice is about being original and well-paraphrased in your outline. It's not enough for a student to have good grammar, vocabulary and structure, but a successful outline must also hook the reader with some interesting main ideas. These main ideas should additionally be expressed in a manner that's different from how those same ideas are subsequently presented in the body section, to provide dynamic writing. Such paraphrasing is demonstrated in the table below: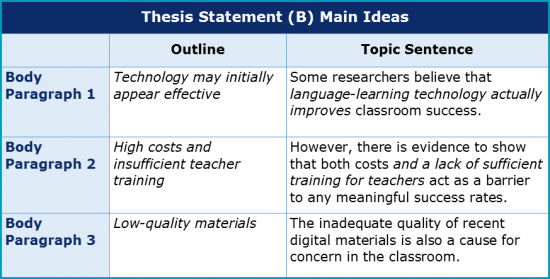 5. Specificity
Finally, it's important to be specific when communicating your main ideas to the reader. While it isn't good practice to put too much detail into your outline, a good writer should nevertheless make their ideas clear during their thesis statement.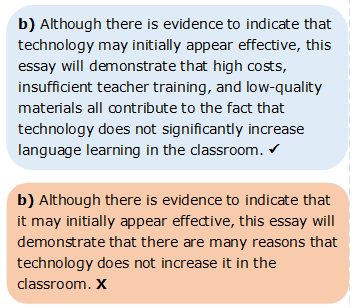 What example outline (a) shows us in the orange box above is that the main ideas of 'corporations', 'energies' and 'transportation', as well as the focus of 'pollution of an environment', do not clarify for the reader the controlling variables involved and are therefore seen as lacking specificity. What can also be determined from the above example outline (b) in orange is that the use of referring pronouns such as 'it' instead of lexical words such as 'technology' and 'language learning' also further distort clarity for the reader, with the additional use of the phrase 'many reasons' ultimately failing to provide a specific outline of this essay's key arguments. By trying to avoid pitfalls such as these, any student should be able to help guarantee personal academic success
3 of 3 Chapters Completed
Once you've completed all three chapters about outlines, you might also wish to download our beginner, intermediate and advanced worksheets to test your progress or print for your students. These professional PDF worksheets can be easily accessed for only a few Academic Marks.

You may also wish to download any relevant PowerPoint activities, teacher resources or audio and video recordings we've created about this topic for only a few Academic Marks.
Looking for videos and quizzes?
[Autumn 2021] As reading isn't always the most effective (or only) way to learn, students can now engage with interactive academic materials in our Course Library and Practice Labs. Visit these platforms and access video tutorials, live activities, assignments, discussion topics, practice tasks and more.
Collect Academic Marks
🎁
Free
to join the community
3 Marks for visiting daily

10 Marks for writing feedback

20 Marks for leaving a testimonial

20-100 Marks for referring your friends