How are visual aids useful in English academia?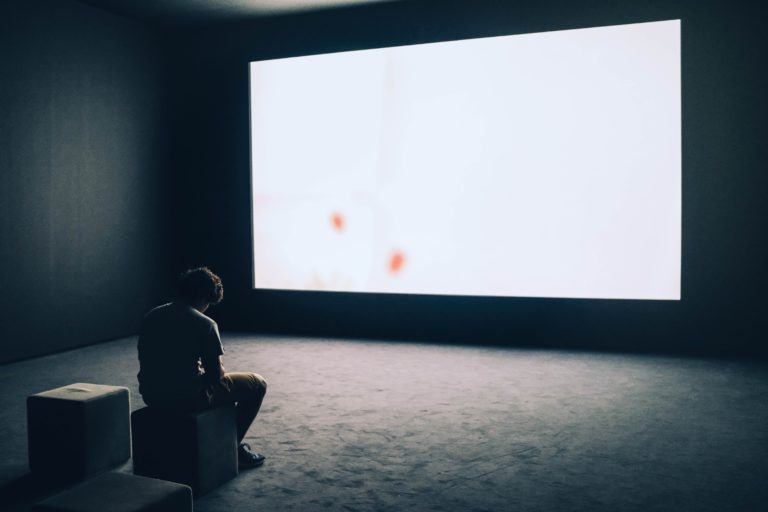 This is the first of three chapters about Using Visual Aids. To complete this reader, read each chapter carefully and then unlock and complete our materials to check your understanding.   
– Introduce the concept of visual aids in academia
– Briefly explore the different types of visual aid available
– Discuss the importance of visual aids when presenting 
Before you begin reading...
This topic now has an interactive course:
Designing Effective PPTs
knowledge checks and quizzes

skills practices, tasks and assignments
Beyond being assessed, there are many reasons that someone may wish to improve their knowledge of using visual aids when delivering a formal presentation. Whether going for a job interview, pitching an idea to colleagues, selling a business strategy to a potential investor or presenting at an academic conference, the presentation skills that are required to successfully and effectively use aids such as posters, diagrams and PowerPoint presentations are all quite similar.
While this short three-chapter reader on using visual aids is intended to focus specifically on the types of presentation that are most common in English-medium academic settings, much of the information contained here could be useful for anyone that wishes to improve their presentation skills. This first chapter starts by exploring the many types of visual aid before then discussing their importance in specific academic contexts. Chapter 2 and 3 on this topic then explore the seven rules and errors that students may wish to follow and avoid when creating effective academic PowerPoint presentations for themselves.
What is a visual aid?
Simply speaking, a visual aid is any supplement to a presentation that provides additional visual engagement between (1) the presenter and the audience, and (2) the audience and the content of that presentation. Whether it's a short video or a comprehensive PowerPoint presentation, most successful presenters will include at least one form of visual aid to improve how their presentation is received.
What are the different types of visual aid?
A presenter has a wide array of visual aids to select from when creating a formal presentation, although which visual aid is chosen may end up depending on factors such as the length of that presentation, its particular content, the size of the audience and the presentation space, and the preferences of the presenter. We've provided the six most common visual aids for your information below: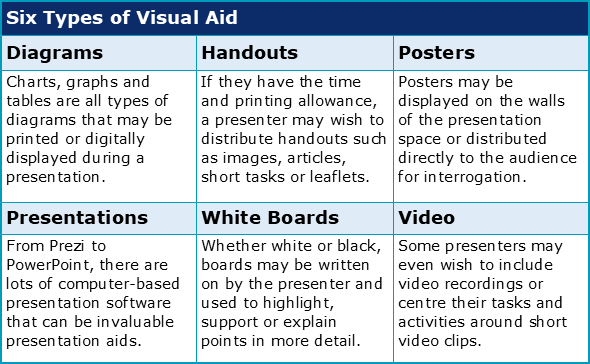 Why are visual aids important in academia?
While there are many important characteristics of a successful presentation such as using the correct body language, delivery strategies and presentation language, the effective use of visual aids is probably one of the most integral parts of the formal presentation process. In academic contexts especially, it's important that the presenter is accurate, concise, consistent and well-prepared – which are characteristics that may only be possible through the experienced use of visual aids. In truth, the audience will not only be expecting visual aids during an academic presentation, but they will be expecting those visual aids to be used both professionally and with clarity and confidence.
What makes a presentation effective/ineffective?
While there are other visual aids to choose from, the focus of this short reader will be specifically about using PowerPoint presentations as these are the most complex. As will be discussed in much more detail in Chapters 2 and 3, there are seven rules that should be followed as well as seven errors that should be avoided when creating effective PowerPoint presentations:
Rule 1: Have a Clear Structure

Rule 2: Use Appropriate Language

Rule 3: Be Accurate

Rule 4: Explain a Concise Slide

Rule 5: Use Evidence and Referencing

Rule 6: Display Data Visually

Rule 7: Use Language Models

Error 1: Poor Editing and Proofreading

Error 2: Using Inappropriate Colour Schemes

Error 3: Having Inconsistent Fonts/Styles

Error 4: Crowding a Slide

Error 5: Overusing Sounds and Animations

Error 6: Not Practising Sufficiently

Error 7: Going Over the Time Limit
Having now introduced these seven rules and errors, you may wish to continue studying with Chapter 2 to learn about these in much more detail.
1 of 3 Chapters Completed
Once you've completed all three chapters about using visual aids, you might also wish to download our beginner, intermediate and advanced worksheets to test your progress or print for your students. These professional PDF worksheets can be easily accessed for only a few Academic Marks.

Looking for live support?
Our tutors are here to help! Academic Marker has three centres of teaching excellence that support and supplement our e-learning pathways, offering private and group services to suit all educational budgets. Enrol today and receive a 10% discount on tailored tuition, group workshops, study programmes and materials development 🎁
Collect Academic Marks
🎁
Free
to join the community
7 Marks for daily e-learning

20-30 for feedback and testimonials

20-100 for referring others