What is the purpose of an academic abstract?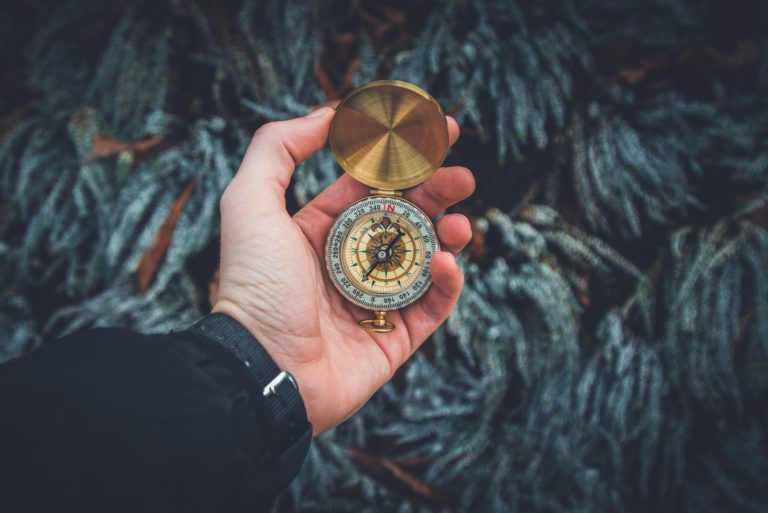 This is the first of three chapters about Abstracts. To complete this reader, read each chapter carefully and then unlock and complete our materials to check your understanding.   
– Introduce the concept of dissertation abstracts
– Explore the four different types of abstract
– Provide an abstract example to help guide the reader
Not every student will have to write an abstract during their academic career, but those that do often look for guidance in this area of essay writing. The following three chapters first aim to discuss abstracts and their four types before taking an example academic abstract, deconstructing it and analysing its five key elements. Once an understanding of how to build an abstract from the start has been developed, our final chapter on this topic highlights the six most useful tips for writing an abstract effectively every time.
What is an abstract?
An abstract is a short piece of text that's placed at the beginning of a dissertation or thesis to provide an overview of that particular research and investigation. Usually between 150 and 500 words in length (depending on the length of the assignment), an abstract functions to describe the context, purpose, methodology, results and implications of a piece of primary research. Abstracts allow the reader to quickly determine the most salient information in a piece of research without having to read in depth. Through the use of key words, abstracts also allow for better publication indexation in libraries or online search-engines.
When would I need to write an abstract?
Not every student will have to write an abstract while studying at university, particularly at the undergraduate level. This facet of essay writing is generally reserved for extended essays and primary research papers. A student would usually be required to write an abstract in the following circumstances:
When completing a PhD

thesis

or MA dissertation

When writing a proposal for a book, book chapter or conference paper

When writing journal articles for publication

When applying for research grants
What are the main types of abstract?
Although all abstracts share similar features, the type of abstract you create will likely depend on the type of research paper you're writing. We've identified four different types below, each with their own rules and idiosyncrasies. Remember to carefully consider which type you'll need before you begin writing.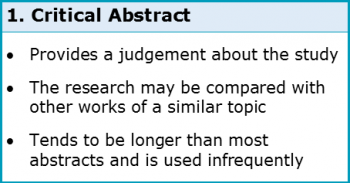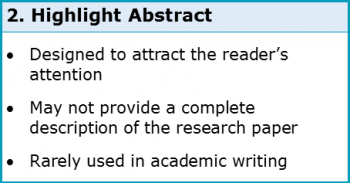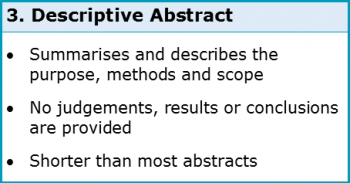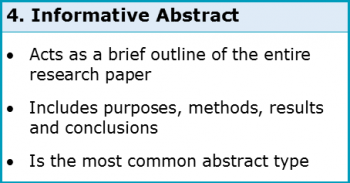 What is an example dissertation abstract?
Seeing as the informative abstract is the most common abstract type used in academic writing, we've provided you with an example below for a linguistics essay about Cameroon Pidgin English. Any academic language that's particularly useful or unique to abstracts has also been bolded for you.
Cameroon Pidgin English (CPE) is a unique variety of West African Pidgin English and a regional lingua franca for millions of people. Shaped through contact with multiple languages, pidgins and creoles such as CPE are said to offer valuable insights into the development and universality of human language. However, many of these restructured varieties lack legitimacy and are subject to harmful language policies such as prohibition in schools. Indeed, CPE is one such illegitimate language. Fortunately, linguistic description has been shown to ameliorate the situation by increasing official and cultural prestige. While some progress has been made in documenting CPE, many aspects of its grammar such as clausal subordination remain relatively unexplored. This research therefore investigates the idiosyncrasies of complementation systems in CPE across nine complement-taking predicate categories. To carry out the investigation, primary and secondary data were collected, interrogated and cross-compared in a triangulated mixed-methods approach. This data consists of a spoken corpus, grammaticality judgement questionnaires and areal typological comparisons, which were analysed using quantitative and qualitative methodologies. A morphosyntactically driven theoretical framework was also used to determine thirty-eight verbal predicates, four complement clause types and three complementisers in CPE. Results suggest that this language utilises indicative, subjunctive, infinitival and participial complement clause types and se, weda and fo complementisers. These complementisers exhibit predominantly finite/nonfinite distinctions and predicate-specific overt/covert alternations. However, the criteria used to determine finiteness in inflectionally impoverished languages proved problematic in this investigation and raises considerations for how complementation in pidgins and creoles should be described. Various constructions provided tentatively in the analysis also provide opportunities for further research.
Now that you understand the overall purpose of an academic abstract, have discussed the various types of abstract available, and have read an example in some detail, Chapter 2 deals with using and recognising each abstract element. 
Referencing
To reference this reader:
Academic Marker (2022) The Abstract. Available at: https://academicmarker.com/essay-writing/dissertations/the-abstract/ (Accessed: Date Month Year).
Related Sources
1 of 3 Chapters Completed
Once you've completed all three chapters about abstracts, you might also wish to download our beginner, intermediate and advanced worksheets to test your progress or print for your students. These professional PDF worksheets can be easily accessed for only a few Academic Marks.

Looking to change pathway?
While reading is important, community members might also benefit from a different study pathway, one that offers interactive "microlearning" activities. We have hundreds of videos, quizzes, assignments, discussion topics and more in our Course Library and Practice Labs, ready to explore.
Collect Academic Marks
🎁
Free
to join the community
15 Marks for daily e-learning

20-30 Marks for leaving feedback

50-250 Marks for referring your friends