Which academic word families are most common?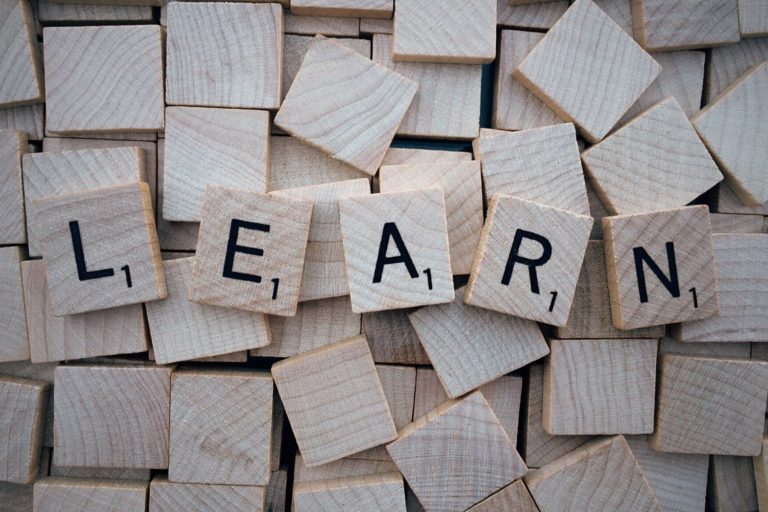 This is the third and final lesson about Word Forms. To complete this course, read each lesson carefully and then unlock and complete our materials to check your understanding.   
– Introduce the word families most common to academia
– Provide forty of the most common word families
– Use a paragraph to contextualise each word form
Lessons 1 and 2 have discussed word forms, how to recognise them, and how to use various prefixes and suffixes to correctly form them. This final lesson now focusses on the top forty word families that are most useful for academic students. The following list is composed of the most common academic headwords, written in their adjectival, adverbial, nominal and verbal forms for your ease and assistance.
These words are the forty most common and useful items in the academic word list that do not also appear in any general word lists. By memorising the following forty vocabulary items and their four example word forms, by learning their various meanings, and by using these words accurately in your academic assignments, your writing and speech should swiftly begin to be more academic, appropriate and formal.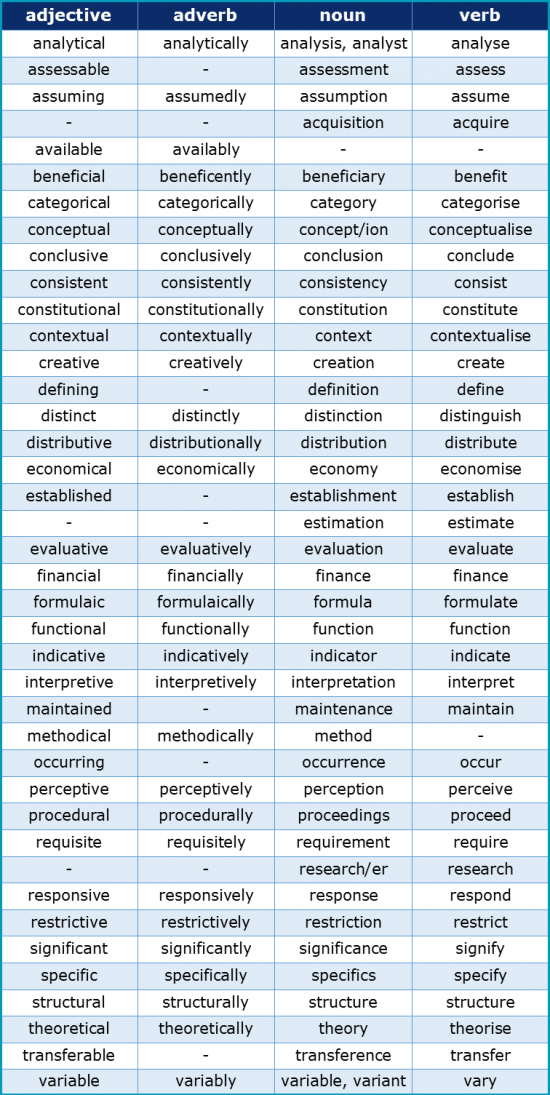 While the following paragraph is fairly nonsensical, it succeeds in using every single one of the forty words in the previous table in the same order they were originally presented. This paragraph is intended to help contextualise the meaning of these words and to demonstrate how they function in practice:
It's important to correctly analyse what an assessment is asking of you before you make any quick assumptions. First acquire the available skills that benefit an understanding of the essay question, and then categorise every concept that you have about that topic. Don't reach a conclusion too quickly and remember to be consistent with your writing style. What may constitute a good essay depends on the social and academic context of your country and institution. It doesn't matter how creative you are, if you cannot clearly define or distinguish your essay's topic or distribute your evidence economically and accordingly, then you'll struggle to establish a convincing argument. One person's estimation of a successful evaluative essay may be financially driven or overly formulaic in nature. Ultimately, to function as a good writer, a student should indicate, open to interpretation and maintain the key arguments of the essay in a methodical way. One single occurrence of the main argument won't be sufficiently perceived by the reader. A writer should therefore proceed to understand the requirements of academic research and respond to their tutor's advice, particularly listening to any restrictions that have been highlighted as significant in the context of academic writing. The specifics of an essay structure, for example, are part of the theory of writing, and the transference of these specific variables should move fluidly from tutor to student.  
After studying these three lessons, you may now wish to unlock our beginner-, intermediate- and advanced-level worksheets to check your knowledge and understanding of this topic.
Once you've completed all three lessons about word forms, you might also wish to download our beginner, intermediate and advanced worksheets to test your progress or print for your students. These professional PDF worksheets can be easily accessed for only a few Academic Marks.
You may also wish to download any relevant PowerPoint activities, teacher resources or audio and video recordings we've created about this topic for only a few Academic Marks.
Would you like to receive 10 more Academic Marks to unlock our content? Community feedback is very important to Academic Marker, so if there's something you like about our materials or an aspect that could be improved, please complete the form below (or get in touch at [email protected]) and we'll credit your account to say thanks.
Wish to say 'thanks' for these free materials? Share academicmarker.com with your fellow students, tutors, colleagues and classmates 🙌.